Andrea Ordóñez joins York University's "Social Innovation Think Tank" Roundtable in Toronto
Research Coordinator of the Southern Voice network, Andrea Ordóñez, joined the inaugural "Social Innovation Think Tank" roundtable, hosted by York University's Dahdaleh Institute for Global Health on 2-3 June 2016 in Toronto.
Aimed at launching a global collaborative network to bolster research and community capacity to address the Sustainable Development Goals (SDGs), the roundtable provided unique opportunities for participants to exchange insights and experiences.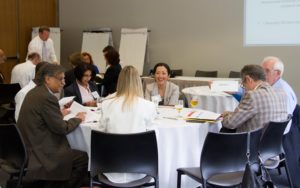 The overarching themes that emerged are: i) using a social innovation lens to focus on the root causes of global health challenges, ii) engaging diverse communities across local to global contexts to address these issues, and iii) working with decision-makers to enhance the impact of research via public policy.
At the dialogue, Ordóñez stressed the importance of new collaborations on the SDGs to be based on principals of an integral and global agenda; health is a decisive issue that crosscuts many of the objectives that countries across the world have to focus on. Apart from Ordóñez who represented the Southern Voice network, Michel Rowland from the IDRC network viz. Latin American Initiative for Public Policy Research (ILAIPP) also addressed the event. The other participants were Deljit Bains, South Asian Health Institute; Martin Bunch, York University; Manoj Fernando, Rajarata University of Sri Lanka; Vic Neufeld, McMaster University; Peter Taylor, Think Tank Initiative, IDRC; and Jianhong Wu, York University.
Click here to view the press release of the roundtable.
1,013 total views, 4 views today