Debapriya speaks at high level meetings during UNGA session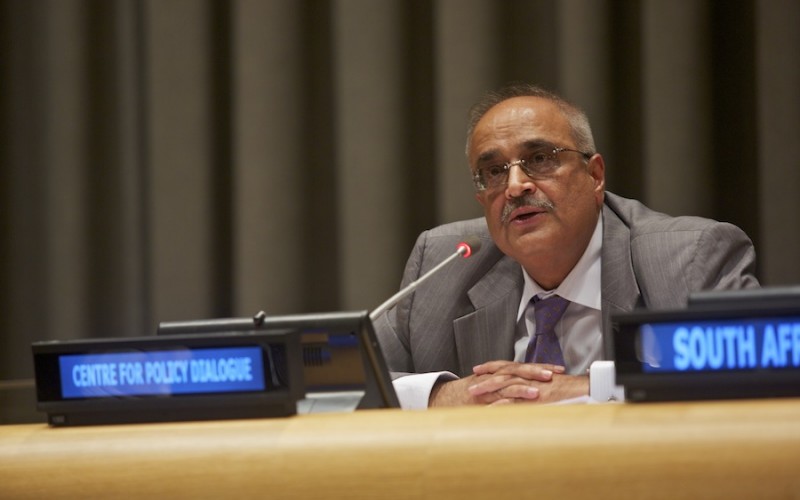 On 22 September 2013 in New York Dr Debapriya Bhattacharya, Chair, Southern Voice on Post-MDGs and Distinguished Fellow, Centre for Policy Dialogue (CPD) provided closing remarks along with Hon'ble Amina Mohammed, Special Adviser to the UN Secretary General on Post-2015 (UN) and Hungarian Ambassador HE Csaba Kőrösi, Co-Chair of the Open Working Group on Sustainable Development Goals at the "Dialogue on Advancing Regional Recommendations on Post-2015". It was the final event of the long process of world-wide civil society consultation conducted by the United Nations Non-governmental Liaison Service (UN-NGLS) along with Executive Office of the UN Secretary General (EOSG).
Dr Debapriya in his remarks reflected on the MDGs and the need for a "final push" to achieve them, while analyzing their "fault lines."He also reflected on the macroeconomic framework, issues of productive capacity and employment, the multidimensional nature of poverty, and the need to address inequalities as lessons which should be taken forward from the MDGs into the post-2015 agenda. He concluded by raising the question of how civil society will participate as the post-2015 sustainable development discussion is taken forward in the intergovernmental arena.
Other Events. In New York on 25 September, 2013 Dr. Debapriya Bhattacharya was one of the distinguished panelists at the launch event of the Report Getting To Zero published by Save the Children. HE Mr. Christian Friis Bach, Minister for Development Cooperation, Denmark chaired the event and Save the Children's Director of Policy and Research Ms. Elizabeth Stuart presented the highlights of the report. Mr. Keith Hansen, the Vice President of the World Bank, Dr. John McArthur, Senior Fellow, UN Foundation and the Fung Global Institute were the other panellists.
Dr. Debapriya also addressed the Bi-Annual Meeting of International Education Funders Group highlighting the importance of Southern Voices in the global education agenda on 26 September, 2013. During the UNGA week, he also contributed to the event on "Engineering a Development Data Revolution", organized by OECD, PARIS21 (26 September 2013) and "Domestic Resource Mobilisation within a Future Global Partnership for Development", organized by Global Partnership for Effective Development Co-operation (24 September, 2013).
936 total views, 1 views today