Post-2015 Data Test : country level experiences
Back to homepage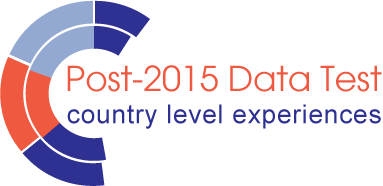 Unpacking Data Revolution at the Country Level and Global Outlook
Southern Voice on Post-MDG International Development Goals (Southern Voice) enables the Global South to contribute in global policy processes. The network pursues a rich portfolio related to the 2030 Agenda for Sustainable Development, and launched its pioneering data initiative, Post-2015 Data Test, during the Sustainable Development Goal (SDG) negotiations in 2013, when the role of data as public good gained recognition. Southern Voice has launched follow-up studies based on the learning outcomes of Post-2015 Data Test, and has also joined the Global Partnership for Sustainable Development Data (Global Data Partnership) as an Anchor Partner.  To view the flyer on Southern Voice's data initiatives, click here.
The Post-2015 Data Test Initiative
"Post-2015 Data Test: Unpacking the Data Revolution at the Country Level" (Post-2015 Data Test) was a collaborative research initiative of the Southern Voice network which assessed the manner in which the post-2015 international development agenda maybe implemented and measured across a range of country contexts.
Co-led by Southern Voice, the Norman Patterson School of International Affairs (NPSIA) at Carleton University, and the Centre for Policy Dialogue (CPD), Dhaka, the initiative examined country priorities and challenges related to accessing data and measuring progress on a select set of potential post-2015 goals, targets and indicators.
What Next for Post-2015 Data Test?
Southern Voice is currently undertaking a follow up project based on the learning outcomes of Post-2015 Data Test. This follow up project captioned "Strengthening Voice, Building Capacities and Expanding Outreach of the Southern Think Tanks in Shaping the Post-2015 International Development Goals" has been designed to consolidate earlier works of Southern Voice as well as to address new issues related to the post-2015 agenda.
Four countries – Bangladesh, Senegal, Tanzania and Turkey – are preparing country level action plans for addressing the capacity gaps and data deficits as regards the implementation of the SDGs. Building on the conclusions and recommendations of their previous country studies prepared under Post-2015 Data Test, data action plans are being developed for Bangladesh by the Centre for Policy Dialogue (CPD), for Senegal by Initiative Prospective Agricole et Rurale (IPAR), for Tanzania by REPOA-Policy Research for Development, and by Centre for Economics and Foreign Policy Studies (EDAM) by Turkey.
Once available, the four country-level data action plans will be posted here.

Southern Voice joins Global Data Partnership
Southern Voice has joined the Global Data Partnership as an Anchor Partner, and will contribute its unique perspectives in three working groups initially: (i) Country Level Data Roadmaps/Action Plans; (ii) Global Data Collaboratives, and (iii) Resource Alignment and Mobilisation. Click here for details.
1,602 total views, 1 views today