Dhaka Expert Group Meeting: Setting the Agenda
Back to homepage
Concept Note | Programme Schedule | Participants List | Paper Presented | Gallery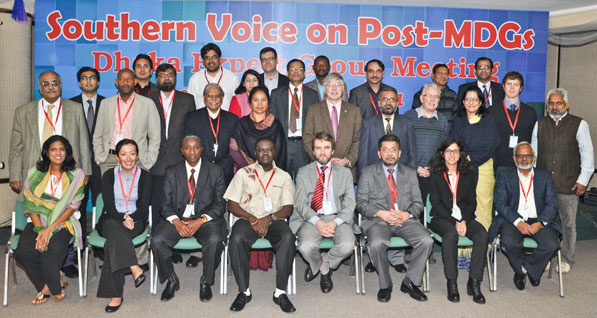 Centre for Policy Dialogue (CPD) is spearheading in a new global initiative titled Southern Voice on Post-MDGs. The initiative involves 49 think tanks drawn from South Asia, Africa and Latin America. All these think tanks are awardees of the Think Tank Initiative (TTI) – a facility created through contributions from Bill and Melinda Gates Foundation, William and Flora Hewlett Foundation and bilateral donors, and managed by the International Development Research Centre (IDRC), Ottawa.
As the Millennium Development Goals (MDGs) approaches the deadline of 2015, the international development community is focusing on the one hand, on the experiences gathered so far regarding the implementation of MDGs, and, on the other, articulation of post-MDG framework, issues and targets. Taking note of the global power imbalance, knowledge asymmetry and MDG delivery experience, the Southern Voice on Post-MDGs seeks to channel its inputs from developing countries' perspectives into the ongoing global discussions on post-MDGs (2015). This initiative intends to leverage the evidenced-based knowledge and policy experience in the South on think tanks to influence the emerging global development agenda.
The initiative was first conceived in a meeting of Southern think tanks in Cape Town, South Africa in June 2012. Since then, CPD has further conceptualised the initiative and prepared its programme document. This was followed by two Webinars (web-based conferences) involving experts from three continents in November and December 2012. The Southern Voice initiative was launched to the official stakeholders as well as to the larger development community. Dr Debapriya Bhattacharya, Distinguished Fellow, CPD is the Convener of the Southern Voice on Post-MDGs
In order to take the initiative to its next level, an expert group meeting is being convened in Dhaka on 11-13 January 2013. The meeting will articulate the agenda and identify a set of activities to be undertaken by the Southern Voice on Post-MDGs in 2013 and 2014. Immediate inputs for the official (UN High Level Panel's) consultation process on post-MDGs will also be considered at the meeting. Besides researchers of a number of Southern think tanks, UN officials and a number of experts having demonstrated expertise on MDG-related issues are to take part in the Dhaka meeting.
The various sessions of the two-day event will cover areas such as (i) Framework, Issues and Challenges of Post-MDGs; (ii) The Unfinished Agendas of MDGs; (iii) Issues for the Future; (iv) Prospects of Global Partnership and Resource Mobilisation for Post-MDGs; and (v) The Ongoing Consultation Processes and Interface with the Southern Voice on Post-MDGs Initiative. The meeting will also endorse the activity plan of the initiative and the immediate inputs to be sent to the UN High Level Task Force.
974 total views, 1 views today