Think tanks from across the globe inaugurate the South-South Global Thinkers Platform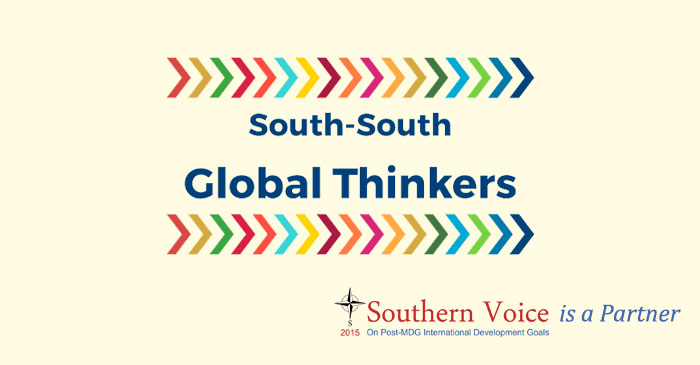 South-South Global Thinkers is a global coalition of think tank networks that facilitates the sharing of knowledge, expertise, and perspectives from the Global South to inform policy dialogues. Its research agenda focuses on the opportunities and challenges of scaling-up South-South and Triangular Cooperation for the achievement of the Sustainable Development Goals.
Southern Voice is pleased to join the global coalition of think tank networks supported by the United Nations Development Programme (UNDP) and the United Nations Office for South-South Cooperation (UNOSSC) [view brochure]. Global Research Consortium on Economic Structural Transformation (GRECEST), Latin America Initiative on Politics and Public Affairs Studies (ILAIPP), Middle East and North Africa for Public Administration (MENAPAR), Network of Southern Think Tanks (NEST), and Silk Road Think Tank Network (SILKS) are among the partners of the initiative.
As a member of the coalition, Southern Voice will contribute its unique perspectives, expertise and networks by engaging in policy dialogues on South South Cooperation and exploring possibilities of collaboration in areas such as research and capacity building. Southern Voice's presence in the Asia, Africa and Latin America will be a valuable asset for the coalition, to promote more coherence and convergence on South South Cooperation within the global South.
95 total views, 1 views today