Inequalities in post-2015 agenda: Debapriya Bhattacharya addresses the UN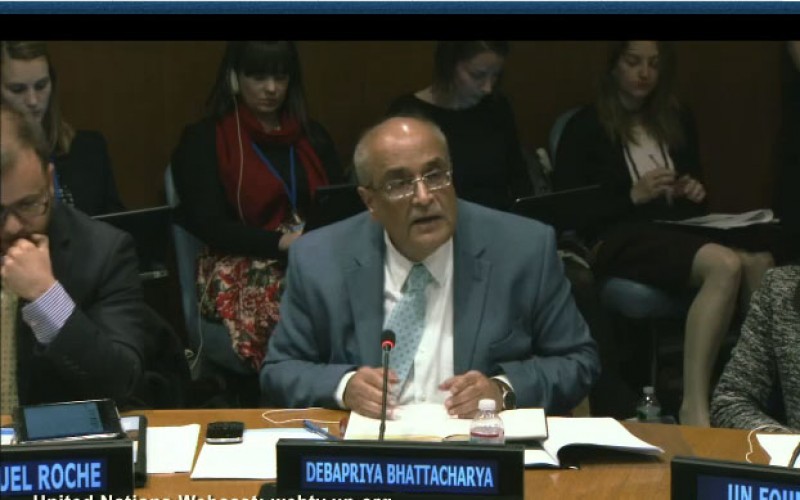 Dr Debapriya Bhattacharya, Chair, Southern Voice on Post-MDGs addressed issues related to inequalities in the post-2015 agenda at United Nations Headquarters, in New York on 19 March 2015.
The CPD Distinguished Fellow was an invited speaker at the event titled "Leaving no one behind: tackling inequalities in the post-2015 development agenda," jointly organised by the Permanent Mission of the Kingdom of the Netherlands, the Overseas Development Institute and United Nations Foundation.
Dr Bhattacharya felt that inequalities within and between the countries must be taken into account despite critical views of the initiative from the South. He added that the Global Inequality Index should be at forefront of Post2015 agenda. He also stated that convergence is the common core issue in the goal of closing inequality gaps, and systemic concerns are the strongest interventions in achieving this, as quoted by Elise Freeman.
Although the concept of leaving no one behind is firmly embedded in the Post-2015 negotiations, there has been little discussion about what this means in practice. The event explored what specific actions should be agreed through the post-2015 and Financing for Development negotiations in order to deliver on the concept of leaving no one behind.
ODI Briefing Paper on 'Leaving No One Behind' by Claire Melamed
The event brought together UN negotiators, civil society and other stakeholders to discuss concrete proposals for leaving no one behind and seriously tackling inequality.
1,019 total views, 1 views today