Southern researchers debate post-2015 agenda at Istanbul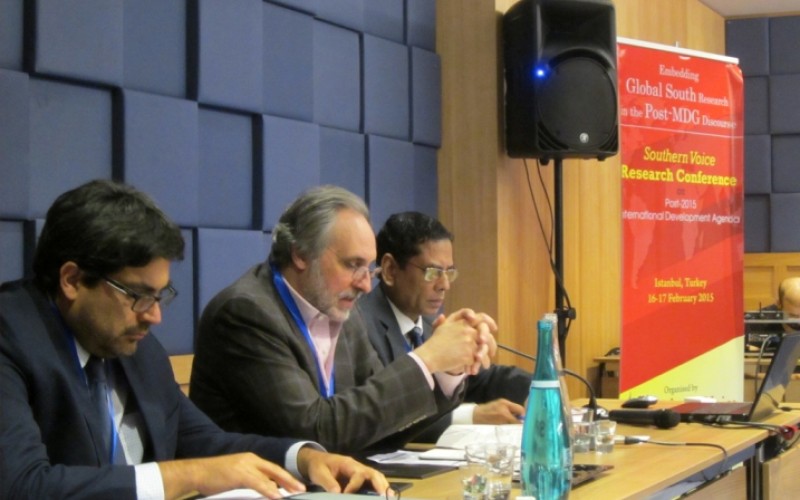 ISTANBUL, 16-17 February 2015 – the first research conference on "Southern Voice on Post-MDG International Development Goals and Targets" organised by Southern Voice on Post-MDGs International Development Goals (SV for short) in association with Think Tank Initiative (TTI), has concluded successfully. The two-day event was held at the Radisson Blu Hotel, Sisli of Istanbul, and attended by more than 70 members of international development and research communities from Africa, Asia, Europe, Latin America and North America.
The conference provided opportunities to SV research grantees who have reinterpreted their existing outputs or have undertaken new research on emerging post-2015 issues, to present their papers and invite inputs from other participants, which are essential for finalising these papers. Twenty papers were presented at the conference.
In parallel, the conference provided a platform for think tanks from the Global South to consolidate analytical understanding of post-2015 issues and engage in the global post-MDG debate. Day one of the conference consisted of the Curtain Raising Session, four parallel sessions, recap plenaries and a special presentation on the fifth European Report on Development (ERD 2014-15). Read more about ERD 2014-15.
Day two consisted of the fifth and sixth sessions (two parallel sessions), a special presentation on the Post-2015 Data Test project and a Strategy Session on "What Next for Southern Voice?" The programme details are available for viewing here.
The core themes of the conference covered: (i) shaping of the international development
agenda for post-2015 period; (ii) identification of implementation challenges of the post-2015 agenda; and (iii) understanding national implications for implementing post-2015 international development goals.
In the coming days, a short note on major conclusions and recommendations derived from the conference will be disseminated, and the volume on "Southern Perspectives on Post-2015 Agenda" consisting of selected research outputs of SV research grantees will be published.
2,492 total views, 2 views today