Transforming rural settlements, industries and the informal economy to eradicate poverty in Africa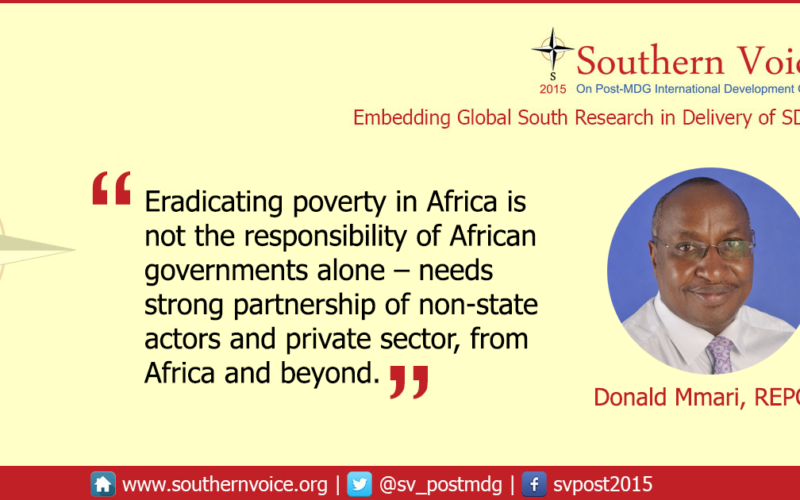 Southern Voice's network member Donald Mmari, Executive Director of REPOA shares African perspectives on SDG 1: Ending poverty in all its forms.
In Africa, economic growth is not a good indicator of sustainable development
In Africa, where a large proportion of the poor are based, eradicating poverty goes beyond increasing consumption alone. The issue is broader and includes access to social protection, equity in education and health, rights to economic opportunities and ownership of key assets such as land. Meeting SDG 1 (eradication of poverty) requires a comprehensive policy framework and collective (North and South) resource mobilisation.
The recent economic growth recorded in many African countries provides opportunities for eradicating poverty. However, many challenges remain that can reverse the growth trends, which is already evident in some countries. In addition, the rosy picture indicated by per capita GDP is not necessarily a comprehensive indicator of social development and poverty reduction, as it tends to hide dramatic variations in income across individuals, social groups and geographical locations.
Scaling down ODA on the basis of rising GDP alone will thus actually lock a large population in poverty for a long time. Even if Africa is able to double its domestic resources in the foreseeable future, the depth of poverty and complexity of impoverishment drivers which reinforce each other will make realising SDG 1 of the Agenda 2030, and aspiration 1 of the Africa Union Agenda 2063 very daunting, especially without commitment from the international community.
But, economic factors are constraining progress on poverty alleviation  
While prospects for Africa's transformation exist, evidenced by successful high-growth momentum sustained in many countries such as Botswana, Ethiopia, and Tanzania, there are lots of challenges that we must confront. These include the slow pace of structural transformation in Africa; low productivity in agricultural sector and in the growing informal economy; and changing demographics characterised by the youth bulge without corresponding investments in skills development and growth of productive employment. Significant infrastructure gap remains wide, and technological capabilities are still limited.
Agriculture, Industry and the informal economy: three priorities for the continent
Three strategic considerations will help tackle the challenge of poverty in Africa:
Fast-tracking agricultural and rural transformation. Africa has to significantly improve farm level productivity, making sure that its farmers, 90% of whom are small holders, are able to access new technologies and use improved farm inputs. Farmers need new practices that are climate-smart, strong agricultural markets, and access to global value chains. Diversifying rural economies, encouraging and supporting agro-processing, and value addition and non-farm activities in rural areas are also important in this regard.
Embarking on strategic industrialisation. Many countries, including Tanzania, are aspiring to promote industrialisation-driven transformation, placing high priorities in the agro industry and value addition to natural resources. While these industries have great potential to not only promote employment but also to ensure that a significant part of the value of these commodities remains in Africa – they can also serve to stimulate the growth of other industrial clusters provided that supportive investment and trade policies are put in place.

It also requires Africa to make significant investments aiming to close the infrastructure gap and the skills gap, particularly for its growing youth. African producers will have to insert themselves strategically into global value chains with potential for gradual upgrading within them.
Engaging strategically with its increasing size of the informal economy. The population is moving away from agriculture to informal trade in both rural and rapidly growing cities. But many activities in the informal economy render a large proportion of employment to be very precarious and of low productivity. Policies must be designed and implemented in ways that will raise informal sector productivity, reduce risks, reduce cost of doing business, eliminate significant institutional biases which trap informal sector enterprises into low productivity, and support gradual and organic transformation into the formal economies.

Investment in skill development is critical. Simplification of procedures for doing business to help informal sector enterprises and operators to strengthen their voice and organisation and also to put in place a more responsive political governance and development management is necessary.
In conclusion, it is important to note that eradicating poverty in Africa is not the responsibility of the African governments alone.  It needs strong partnership of non-state actors, private sector, not only from Africa, but also from around the world. Global resources and institutional capacities are still needed to support African states to eradicate poverty and achieve SDG 1 and related regional and national aspirations.
869 total views, 8 views today